You are here:
AQL Home
» Chrome Privacy Protector
Protect your privacy and remove the unique ID of Google Chrome from your computer
Chrome Privacy Protector v2.0
Regarding to Google, "Google Chrome is a browser that combines a minimal design with sophisticated technology to make the web faster, safer, and easier". Unfortunately, Google Chrome is using a client_id variable which is unique for every Chrome user, and which can be used to create exact user profiles of a user's actions while using Google Chrome.
Chrome Privacy Protector is a FREE tool that automatically deletes the unique Client ID before each run of Google Chrome.
How to remove Google Chrome unique ID?
To protect your privacy and remove the unique ID from your computer, please launch Chrome Privacy Protector, and then close all Google Chrome windows now in case that it is currently launched, and then click the "Remove unique ID now" button to anonymize your Google Chrome.
Screenshot of Chrome Privacy Proector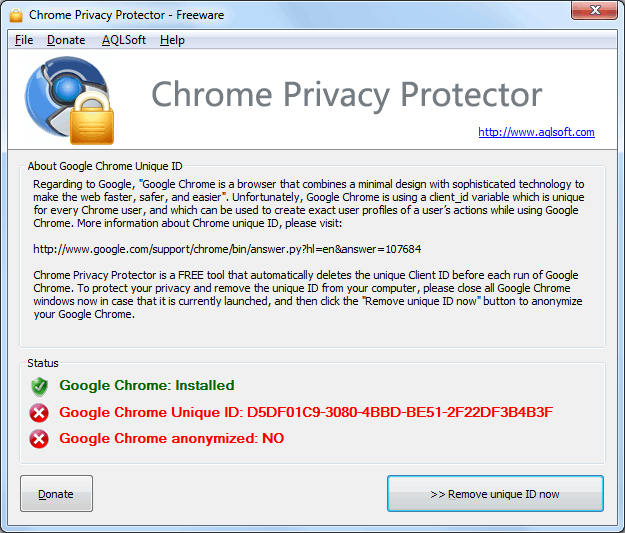 » More screenshots of Chrome Privacy Proector
About Google Chrome unique ID
More information about Chrome unique ID, there is an article from Google official document:
General privacy: Privacy, unique IDs, and RLZ

Unique IDs: The Privacy Policy for Google Chrome mentions several unique application numbers. Those include the following:

The installation ID (IID) is created at install time to remove duplicate installation reports from Google servers. This is necessary to accurately count the number of successful installations of Google Chrome that have occurred. The IID is generated randomly (not based on any other information) and is deleted in the next update check after first run.
The client ID is used for the user metrics service. This is an opt-in service that lets users send usage statistics to Google so that we can learn how Google Chrome is being used for the sake of making improvements. It helps us answer questions like, "Are people using the back button?" and "How common is it that people click the back button repeatedly?" Users can always update their preference about sending usage statistics.
Other resource about Google Chrome and Security